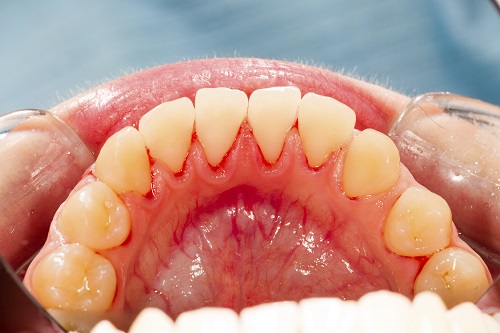 Gum recession is a common symptom of gum disease, a condition that affects millions of Americans.
When gums recede, they pull away from the teeth, exposing more of your teeth to the outside elements.
Since these portions of the teeth aren't intended to be exposed, they have less enamel coverage and can be extremely sensitive.
So, what can you do if your dentist diagnoses you with gum recession? Well, severe cases may require a gum graft to correct, but minimal recession might just require that you make some changes to your oral hygiene.
There are certain steps that can help you to prevent further gum recession by simply taking better care of your mouth:
| | |
| --- | --- |
| • | Limit brushing of your gums. When you have gum recession, brushing your gums could make the problem worse, so make sure that you are only brushing your teeth. Brush the bottoms of the teeth lightly while minimizing the amount of pressure placed on the gums. |
| • | Floss gently. Even if you have sensitive gums, you need to continue flossing your teeth. This will help to remove bacteria from hard-to-reach places in your mouth. |
| • | Choose your mouthwash carefully. Gum recession will make your mouth feel sensitive to a variety of things, including the harsh ingredients that are found in many mouthwashes. Avoid rinses with alcohol, and instead, choose options that are formulated especially for sensitive gums and teeth. |
| • | Use a toothbrush with softer bristles. A toothbrush with soft bristles is the best option for sensitive teeth, so they can also be useful for gum recession. They are designed to fight plaque deposits without being too abrasive on the teeth. |
Are you concerned about how you will care for your teeth and gums now that you are living with recession?
Contact our office today
about how to keep your mouth safe and reverse the effects of receding gums.